11. Maple Use for Roadside trees ................................................. Japanese
.. In the old days, pines along the Tohkaido (from Kyoto to Edo), Japanese cedars in Nikko, and in the present day, trees such as cherry trees, Keyakis, ginkgoes, plain trees, tulip trees and poplars can be seen as roadside trees, and maples are also adopted.

Sugar maples (A.saccharum) and itaya-kaedes (A.mono) can be seen in Sapporo, and hananoki (A.pycnanthum) is famous as the Prefectural tree in Aichi Prefecture.

In Hamamatsu and its neighborhing areas, the iroha-momiji (A.palmatum) and to-kaede (A.buergerianum) are familiar, as well as sweetgums or oriental sweetgums whose leaves are just like those of maples. Maples are also used as favorite garden trees for parks and houses.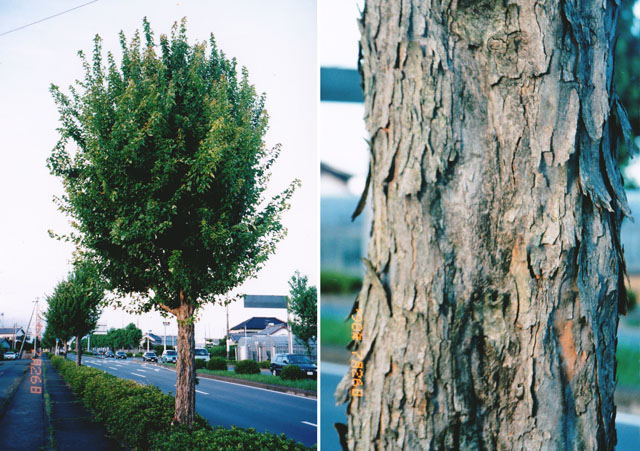 Tohkaede (A.buergerianum) & its trunk (July.26.'98) in Hamamatsu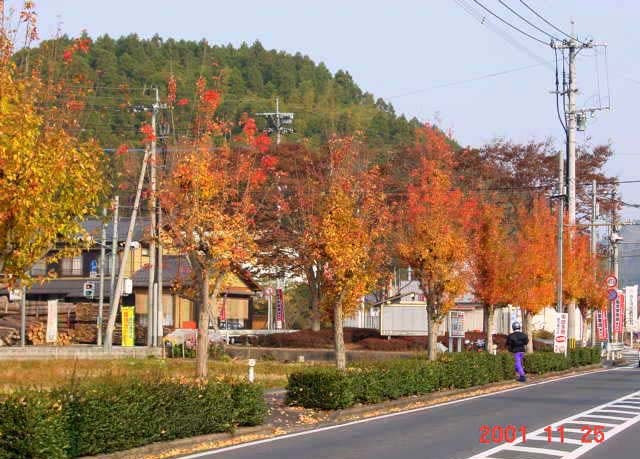 Fall colors of street trees (Acer buergerianum) along the 387th line near Yabakei in Ohita
Roadside trees in a residential suburb of London.....18.Apr,'00

On my way of business trip to England, I visited our factory in a residential suburb of London. Roadside trees in front of the factory were Norway maples (Acer platanoides) , whose scene looked like sprouts of new leaves, which were really all yellow flowers.

Roadside trees in Milan, Italy ... 30.May-02.Jun.'00

I visited Milan for a business trip. It was the end of May, the beginning of June. Roadside trees that I found on Washington Street in front of my hotel were maples. Those in front of the hotel were Norway maples (Acer platanoides), were great maples (Acer pseudoplatanus) at the place 300m north and were Negundo maples (Acer negundo) at 200m south.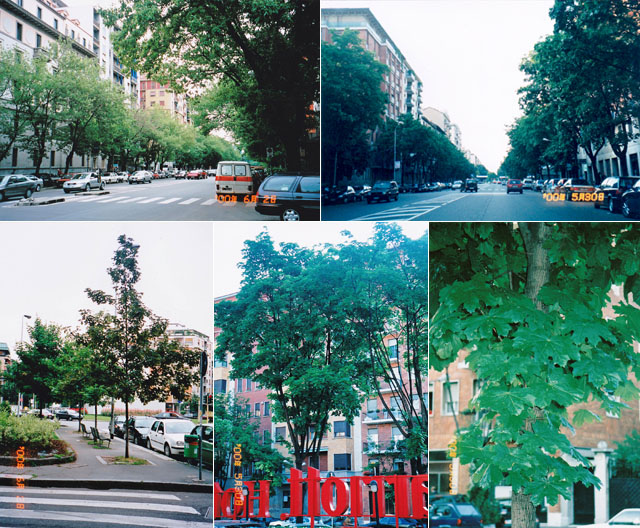 Upper L : Negundo maples, UR : Norway maples
Lower L : great maples, Lower Center & Lower R : Norway maples
Home