Saihohji Garden & maples
56 Matsuo Jingatani-cho Nishigyo-ku Kyoto
I visited Saihohji Garden on Dec. 17, 2007. Saihohji Garden, opened by Gyohki Bosatsu 1300 years ago and built up again by Musoh Kokush 650 years ago, has two types of gardens, the upper has Karesansui (Dry landscape) type garden and the lower has Chisen-kaiyu (going around the pond) type garden.
At first, let's see some construction such as Sohmon (Main Gate), Hondoh (the Main House),
Shohnan-tei (Tea House), Tanhoku-tei (Tea House) and Kohjoh-kan (the Gate between two gardens).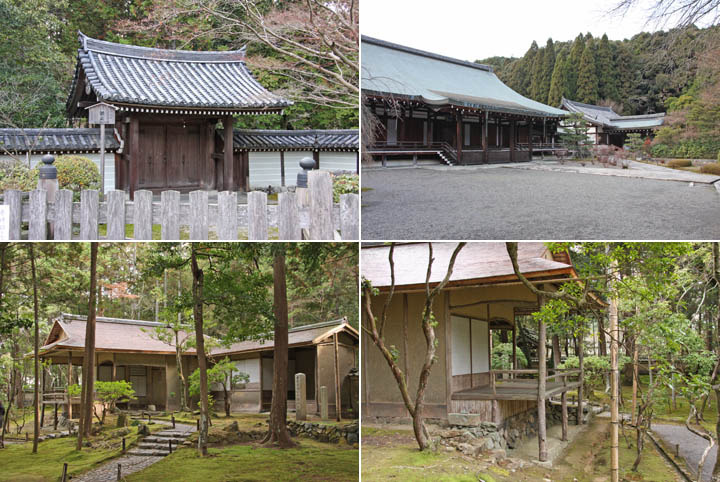 UL :Sohmon (main gate), UR : Hondoh (the main house)
LL : Shohnan-tei (Tea House), LR : Bamboo used for Trough of Shohnan-tei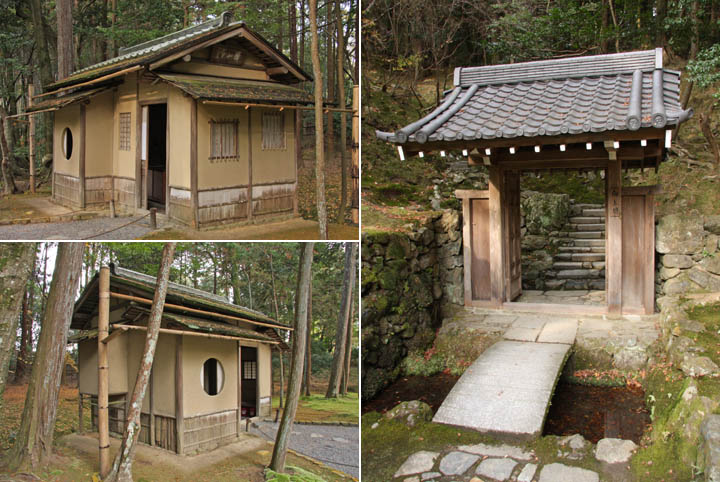 Left : Tanhoku-tei (Tea House) with a round window, Right : Kohjoh-kan (the boundary gate between two gardens)
Let's see the components of the lower garden at first.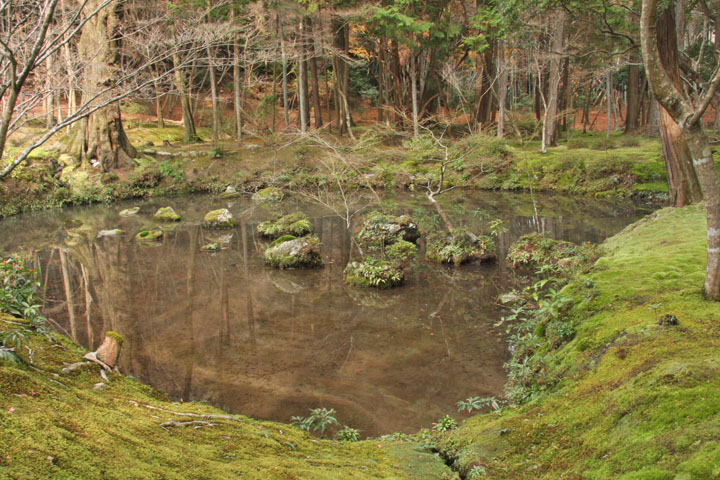 Yodomari-ishi ranging north and south on the Kongoh-ike pond.
Yodomari-ishi is said to be ships anchoring at the harbor in the evening.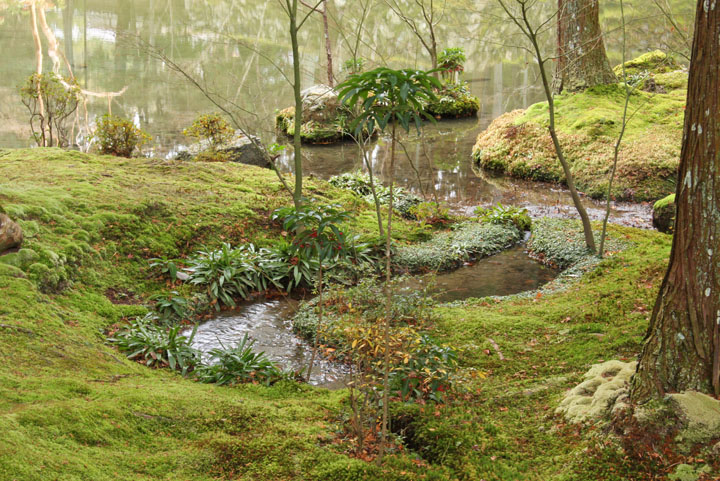 Yarimizu (Curving stream, or Water management) :
Pure & cool water from Evening-sun Fountain to Ohgon-chi (Gold pond)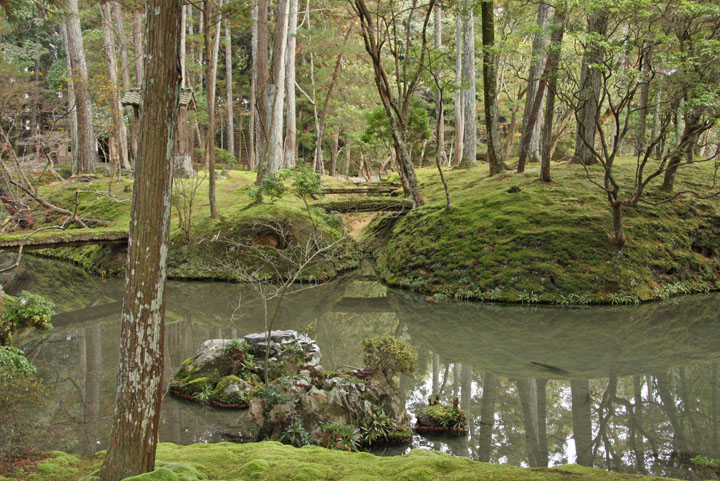 The boundary line by MUSOH Soseki, seperated into two islands, Yuhi-ga-shima & Asahi-ga-shima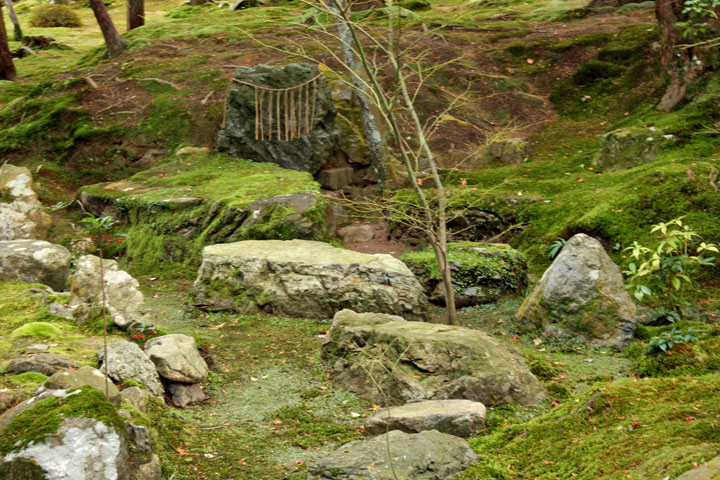 Yohgoh (divine appearance)-seki stone for Matsuo-Myojin(God) with Shimenawa (occupying rope made of straw)
Going along the path from the southwestern corner to east, passing by the Teahouse, you will see Kasumi-jima.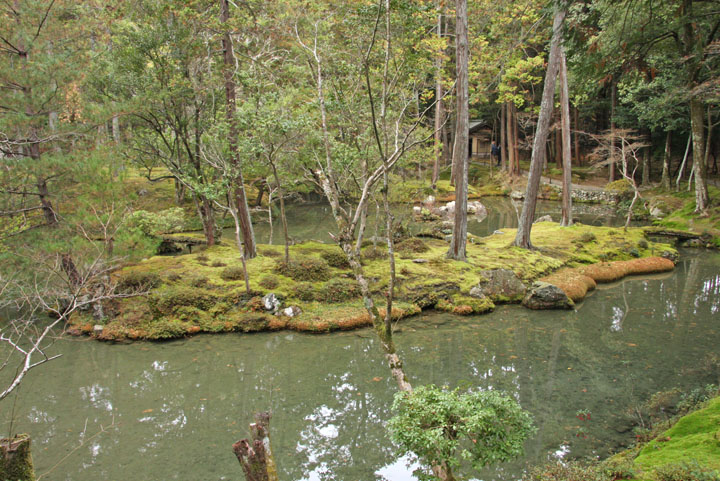 Kasumi-jima formerly with "White sand blue pine" and without "Moss"
It is said that the time changed this garden including kasumi-jima into a mossy world through wars or natural disasters.
Going along northward from the southeastern corner, you will find a crane islet Tsuru-shima.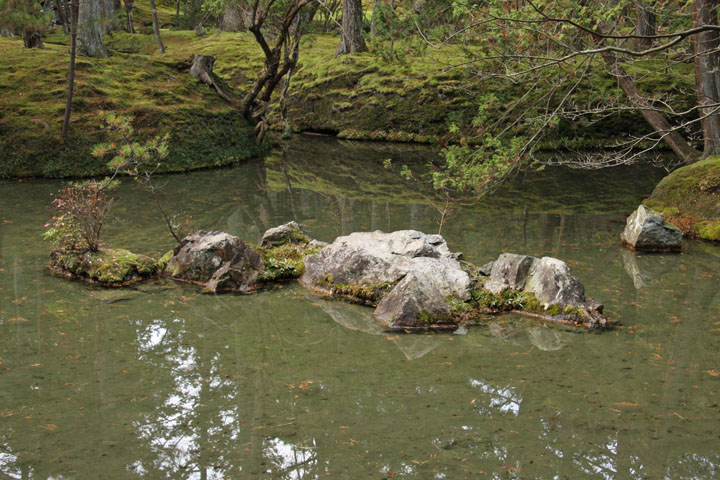 Other area covered with moss, only Stone composition of Tsuru-shima is said to remain a relic of Soseki's character.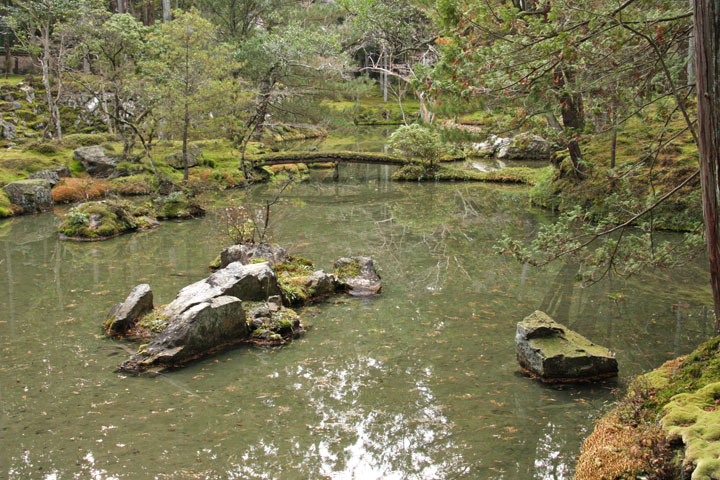 From this angle, you see that the right side stone looks like a treasure ship most.
Soon you will reach Tanhoku-tei Teahouse.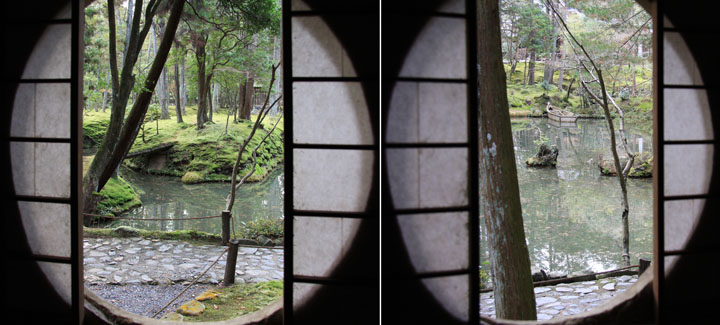 Views from different angles through this round window of Tanhoku-tei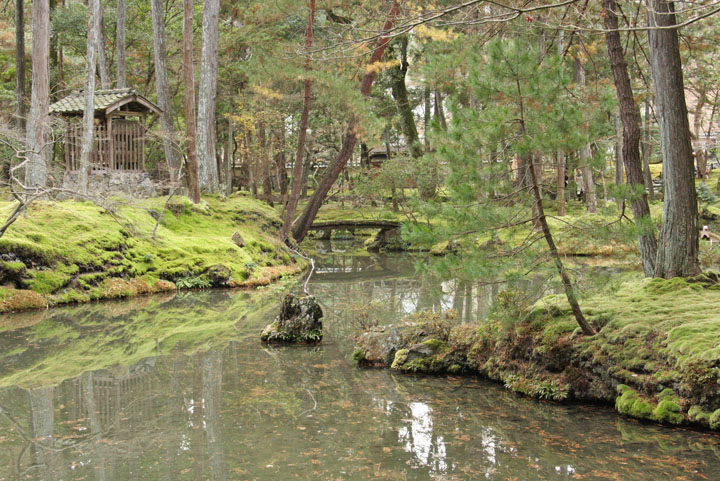 A solitary stone Iwashima and an expanding cape Dejima from the right side
Going westward along the north path, you will have cycled around this pond, and reach the Gate Kohjoh-kan.
Passing through the Gate, climbing stone steps, you will reach Shitoh-an, the center of the upper Dry Landscape garden.
On the way, you will see Shumisen Iwagumi (also being said Tortouse Islet)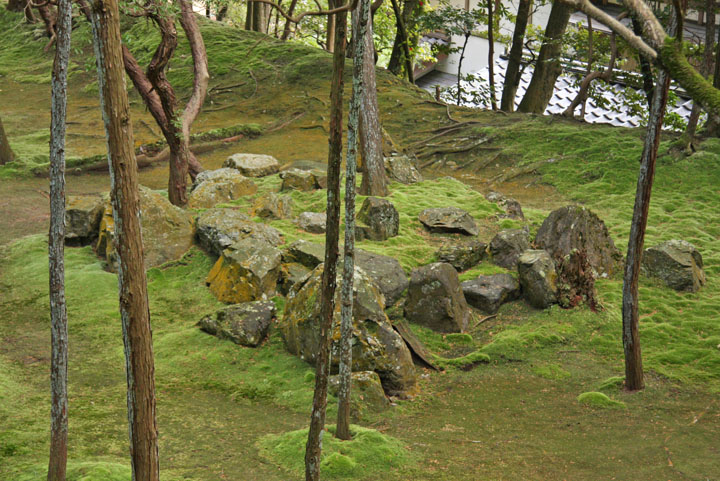 Shumisen-Iwagumi seen from Shitoh-an
From Shitoh-an where is niched the wood statue of Soseki facing east, you can see the whole of Kare-taki Iwagumi, composed of three stages. The lower two stages are flat. You will see A Curp stone Rigyo-seki meaning training bonze at the middle stage. Enlightenment is shown at the upper stage. The construction of these stages shows the story of Dragon Gate Waterfall "Ryumonbaku" where Curp having climbed over to the upper stage will change into a Dragon. This story has been used for one of motifs in Japanese Picture or Japanese Garden, and you would also find it in Tenryuji Garden & Kinkakuji Garden as well.

The whole of Koh-in-zan Kare-taki Iwagumi, the construction of three stages shows the story of Ryumonbaku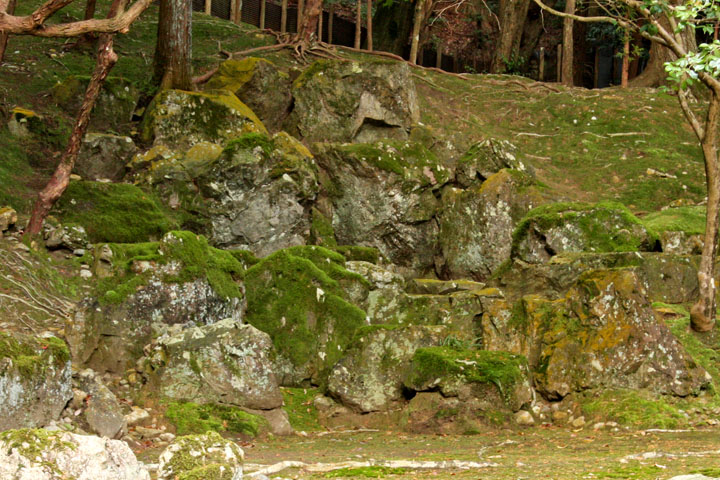 The upper stage of Kare-taki Iwagumi has been said to show the world of Enlightenment.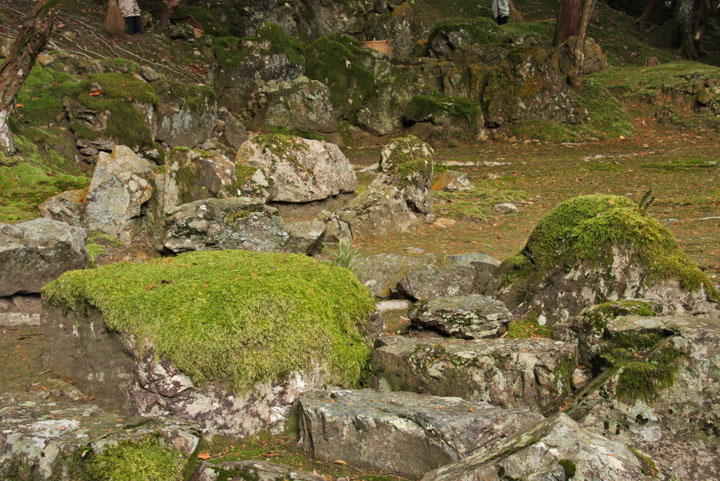 You see A Curp Stone Rigyo-seki meaning training bonze at the center of the middle stage.
At the west side of Shitoh-an, you see Ryuensui, ashram for swimming curp (training bonze)
& Zazen-seki (Stone for sitting & meditation) at the right side of the following photo.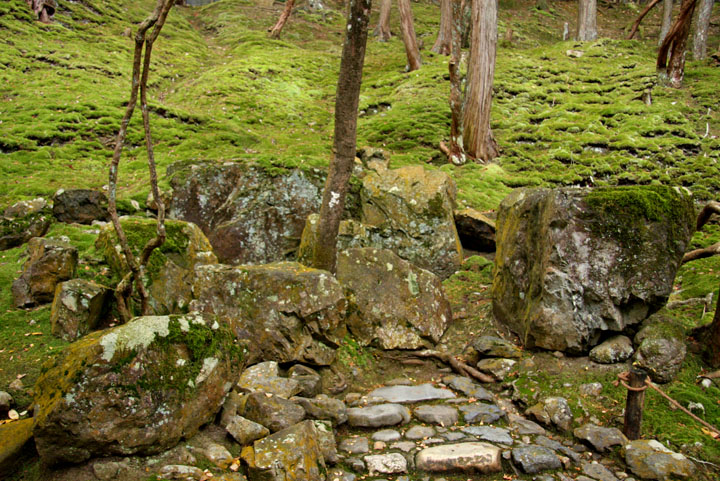 Ryuensui, ashram for swimming curp (training bonze) & Zazen-seki (Stone for sitting & meditation) at the right side
Lastly, let's see Moss & maples in Saihoh-ji Temple !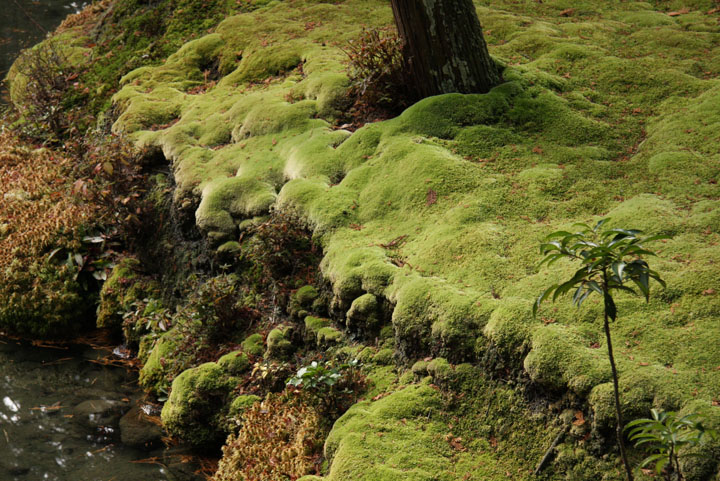 Fresh & vivid Moss, it is said to be the most beautiful in June, the Rainy season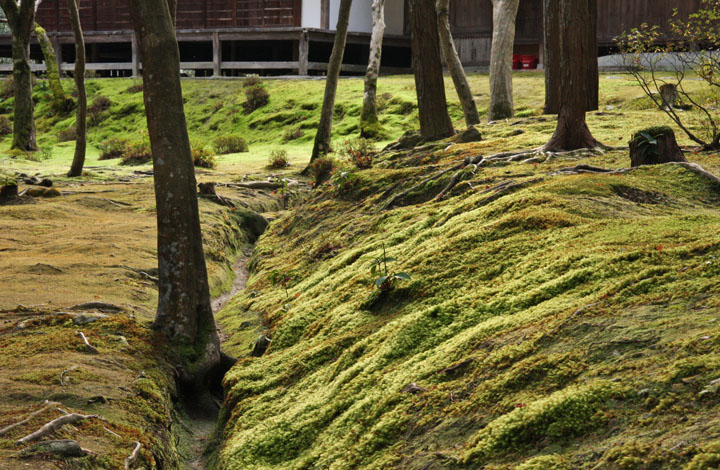 Moss image that has a strange reflection light as if it were something like fluorescence to me.
Autumn color of maples was past its prime.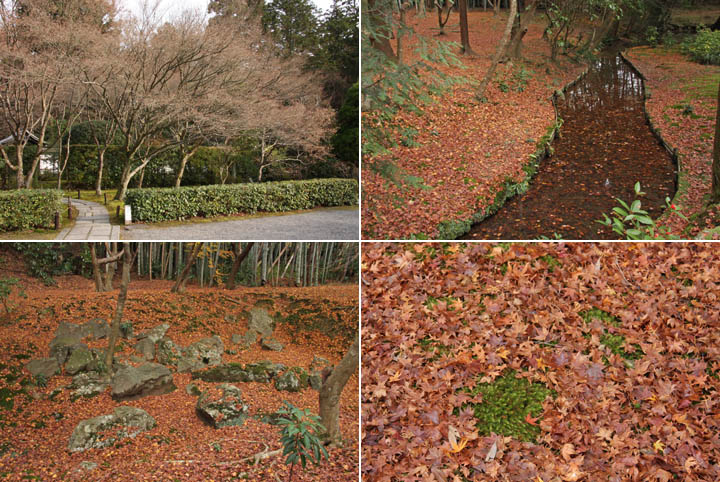 There were several red & brown places on the garden owing to fallen leaves of maples.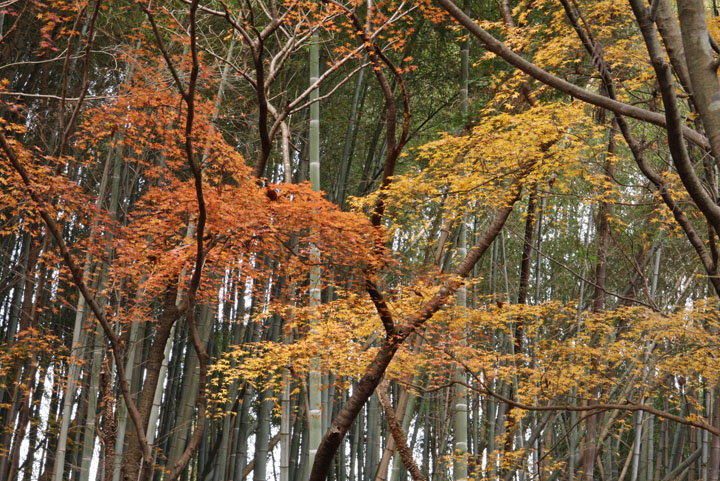 Maples and Bamboos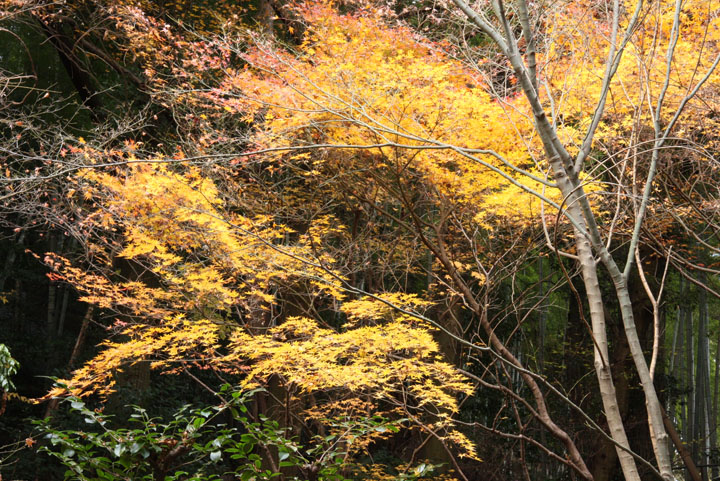 The last glow of maple-leaf at only a slight sunshine