Let me show you some pictures !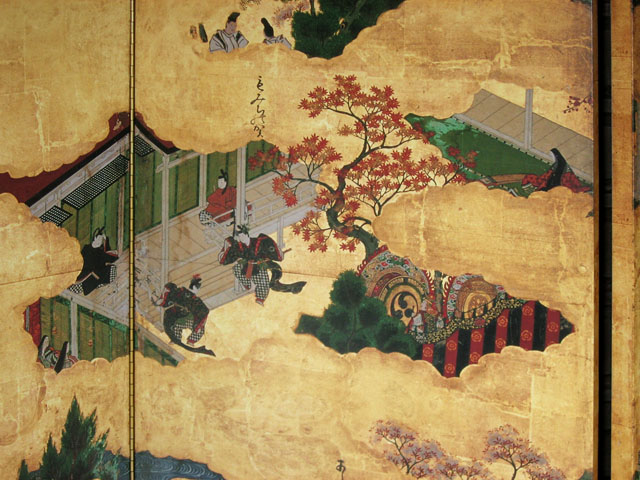 Folding screen picture "Momiji no ga"
from Genji-monogatari, at Ishiyama Temple, Shiga Pref.
Takao-kampuzu-byobu (Takao Maple-viewing Folding screen)
by KANOH Hideyori, Tokyo National Museum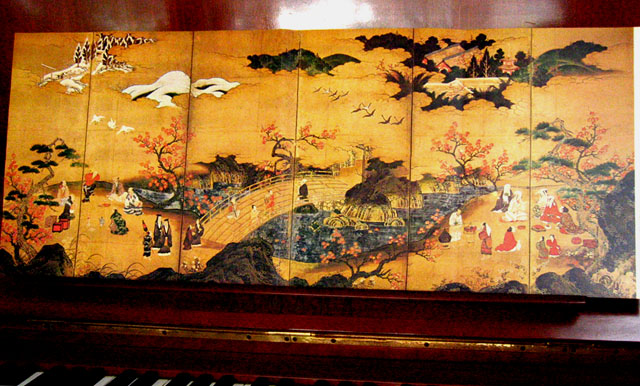 A supplementary picture of the magazine named "Taiyo" on the piano music stand
In Japan we call Maple-viewing "Momijigari", a kind of picnic for enjoying autumn colors.
Nextly, KANOH Eitoku !


"Matsu(Japanese pine tree) ni Yamadori(pheasant) Zu(picture)"
by KANOH Eitoku, at Daikakuji Temple, Kyoto
Kaede-zu (Picture of maple)
by HASEGAWA Tohhaku, Chishaku-in Temple Kyoto
I visited Chishaku-in Temple on Oct.14, 2008.
The original is displayed at air-conditioned collection room, where we can see it.
The picture looks dynamic & gorgeous with the image of aged gold color.
There is the replica of "Kaede-zu" at the guest house where you can enjoy Japanese garden.


The replica of "Kaede-zu" at the guest house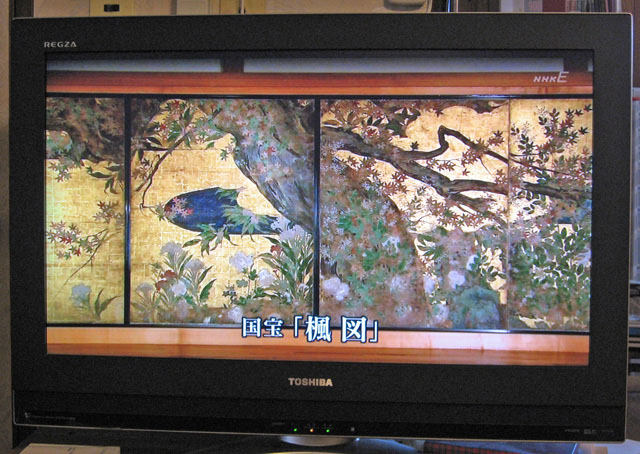 This photo was taken through NHK television program with my television on Jan. 28 2008.
A huge trunk of maple & strongly thrusting branch
Kohyoh (Fall colors of maple)
by YOKOYAMA Taikan, Adachi Museum of Art, Shimane Pref.
I visited Adachi Museum of Art on Oct.13, 2008,
and I got fantastic souvenir of two screens, miniature "Byohbu."


"Kohyoh" showing "Gorgeous Form of maples & running water"
by the two screens, each of six folds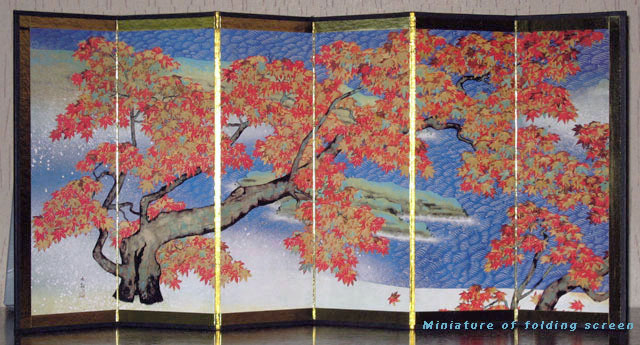 "Kohyoh", the left screen of six folds
A Modern Picture as follows ;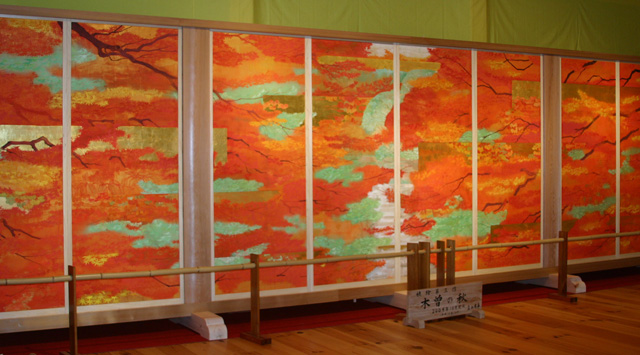 "Fall of Kiso" by TATEYAMA Shuhei
at Kiso Zenkohji Temple, Nagano Pref.
Lastly, Three- dimensional picture !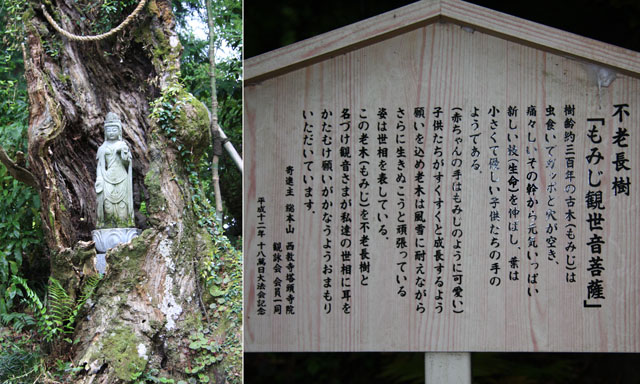 "Momiji-Kannon (Goddess of Mercy of the maple)"
at Saikyohji Temple, Shiga Pref.
Please go to see the original !